Movie- COUSINS (7.00pm)
Movie- COUSINS (7.00pm)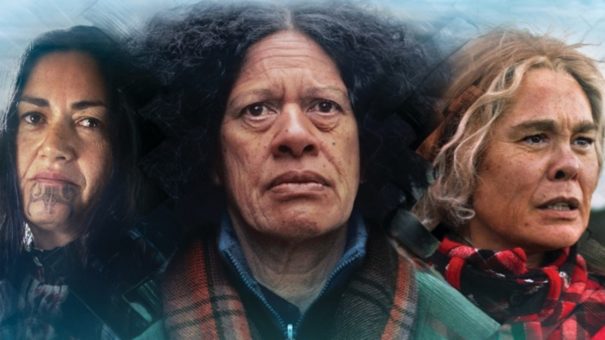 FROM THE PRODUCERS OF BOY AND THE BREAKER UPPERERS!
Based on the book, regarded as a great Kiwi classic, by Patricia Grace.
Mata, Missy and Makareta. Three cousins. Three lives. Separate, yet bound together forever. Orphaned Mata believes she has no whānau and lives out her lonely childhood in fear and bewilderment. Back home on the land, educated Makareta flees an arranged marriage to study law and begin the search for her missing cousin. She leaves behind cheeky yet dutiful Missy who takes on her role of kaitiaki (guardian) of the land. As the years pass and land surveyors begin to encroach, their promise to bring their stolen cousin home seems more unlikely than ever, until a chance encounter changes everything.
SCREENPLAY BY: BRIAR GRACE-SMITH
DIRECTORS: AINSLEY GARDINER & BRIAR GRACE-SMITH
PRODUCERS: GEORGINA CONDER, AINSLEY GARDINER & LIBBY HAKARAIA
CAST: RACHEL HOUSE, BRIAR GRACE-SMITH, TANEA HEKE, ANA SCOTNEY, COHEN HOLLOWAY, MIRIAMA SMITH, SYLVIA RANDS, CHELSIE PRESTON CRAYFORD
2021 PG, Offensive language 93 mins New Zealand
---
Our theatre is cosy and inviting. 2K Digital Projection with Dolby 5.1 Audio.
Our volunteers open the theatre doors and box office 30 minutes before the start time of each session.
Door sales if available from 30 minutes before the start of each session. If you want to check if seats are available phone 825 0023, from 30 minutes before the start of each session.
Due to our small capacity we recommend that reserves are made using the web reservation system as shown below.
There are no allocated seats. Arrive early to get the seat that's right for you from our eclectic collection of couches, reception and other chairs.
There is a cafe with juice, Bundaberg drinks, popcorn plus yummy food on sale. Most sessions are licensed with wine, cider and beer available.
Pay at the door by cash or EFTPOS.
The office is usually open Mondays to Fridays from 10am to 2pm for pre-purchase of tickets or to pay for reserves.
We accept online reserve requests up to about 1 pm on the day of screening– provided the session isn't already full.
Online reserves are available for payment from 30 minutes before the start of a session to 15 minutes before the start.
From 15 minutes before the start they will be resold if the session is full.
Online ticket sales for this event are closed.