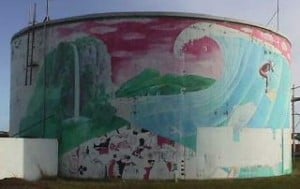 In the late 1980s, the then chairperson of the Raglan Community Arts Council, Marizio Sarzini, an Italian architect, was living in Raglan. He initiated a project to paint a mural on the local water tower. It was a huge project, covering a third of the 240 square metre tower.
Marizio designed and painted the mural, which has stood as an icon of Raglan with its stylised motifs of Mount Karioi lying gracefully beneath a vibrant sunset; the cliffs to her left, with Bridal Veil Falls and the ominous wave curling on the right.
By 1999, the weathering of the wall had left the mural faded and in need of repair.
Through the initiative of local artist Christian Higgins – whose proposal to repaint the tower was finally accepted after much debate – a decision was made to fund the project. The Waikato District Council approached Nick Puklowski of the Raglan Community Arts Council to supervise the project. Pita Mataira was also enlisted, and then the three painters set to work!
Photo gallery