Talented and creative tutors are available in a variety of the arts at the Old School Arts Centre and other locations in and around Raglan Whaingaroa, covering a wide range of levels. Classes and workshops run regularly throughout the year.
See the events calendar for the latest workshops and classes at the Old School.
---
Karyn Moon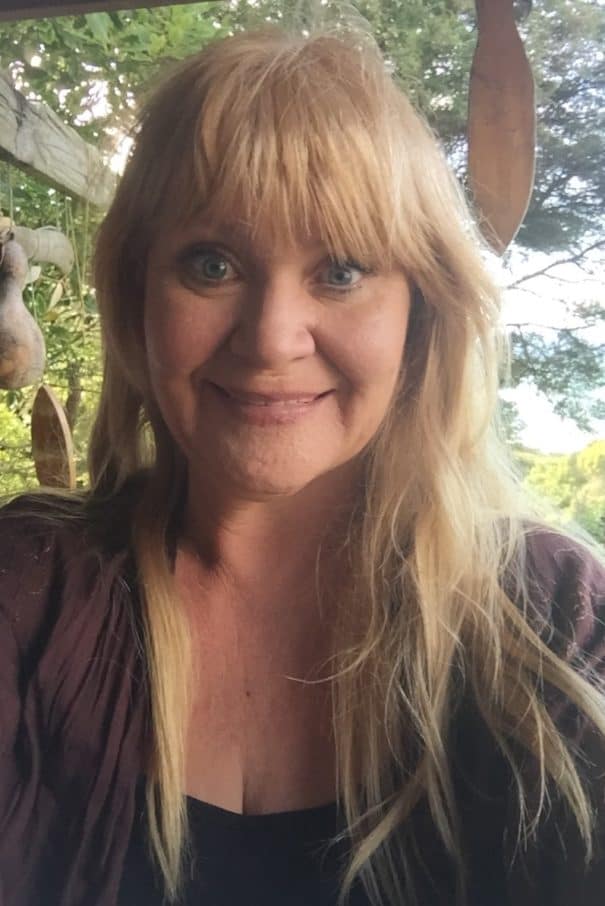 There's something magnificent about exploring and learning in a fun environment.
Karyn is a multi-media artist inspired greatly by Jonathan Milne while studying the creative mind and creating change with The Learning Connexion – school of creativity and art in Wellington in 2001.
During this time, Karyn was also studying in Karori, Wellington and completed a Diploma of teaching early childhood in 2004.  Karyn has taught children in early childhood education for the past 26 years in Wellington, Bay of Plenty and Raglan. 
Karyn is absolutely thrilled to be part of and excited to have the opportunity to support the creative youth of Whaingaroa in the new community clay shed.
Merren Goodison
Raglan has been my home since 1991 when I moved here with my family, husband Mike and our three boys. Since then the boys have grown to men, Mike and I have started several businesses, and we have both found hobbies to keep ourselves very busy.
Playing with clay is one of the hobbies I have been passionate about over the years. There is always so much more to learn with this medium and after 15 years I still feel like a beginner.
I love introducing new people to the basics of working with clay, to see them giving it a go and enjoying the surprises.
Belinda Thomas
I'm Belinda, I'm a mother of two young children and a teacher aide working with kids with special needs. I have a background in Art Teaching and just love playing with clay.
I've lived in Raglan for four years and have been a member of the clay shed and entrantin entering the Christmas exhibitions since moving here, I am currently part of the Tuesday Potters Collective with Sarah Bing.
---
Sarah Bing
Sarah works from her Raglan home studio. She is a local potter who has been working with clay for the last 7 years.
Her work is a celebration of colour and while she mainly concentrates on wheel thrown functional ware, she also combines wheel throwing and handbuilding in her sculptural work.
Working from her home studio in Raglan, Sarah Bing celebrates colour and organic form via her painstaking decorative technique. Her functional pottery and fine art work is contemporary, unique and highly identifiable.
---
Karron Campbell
Born in West Yorkshire, UK. Educated in the fine arts. Teacher/Lecturer/ facilitator.
Karron works from her Gallery/studio 'The Creative Workshop' on Cogswell Road, which Karron and her daughter Rickie have developed in what was once, a pig shed on their bush clad property.
She came to live in New Zealand in 2008.
Her inspiration comes from all things living in the bush.
Karron is available for tutoring either in paint or sculpture mediums.
---
---
Megan Hockly
Megan is a local artist who grew up in Hamilton and completed her Bachelor of Media Arts at Wintec. With a curiosity stemmed from looking at old black and white photos, she enjoys hiding away in her imagination and 'making'.
Megan is a secondary school art and textiles teacher who has worked at local school's including Fraser High, Raglan Area and St Peter's School in Cambridge. Combining motherhood/teaching and her art practise has been a challenge but she is inspired by creating art with children and this is one of the ways she continues to feel passionate. Megan coordinates and teaches the Kreative Kids holiday art programme in Raglan and is often exhibiting her drawing and paintings in solo or group shows.
---
Gila Cohen
Gila Cohen has a certificate of Fine Art, South Sydney collage, BFA in painting from National Art School, Sydney, and a Diploma in Theatre costume manufacturing, Ultimo TAFE, Sydney.
Gila has worked with DADAA Fremantle (Disability and the Arts) as an Art mentor, as well as tutoring various Art and Sewing classes at Fremantle Art Centre. Additionally, she taught Drawing, Painting, and Sewing at Applecross High School, Perth, as part of the Gifted and Talented Arts Programme.
Gila currently resides in Raglan. She has an Art studio she works from in Bankart Street at the AHOY Creative Crew Studios. She is a member of the AHOY Art collective, and regularly teaches Art and Sewing classes in Raglan.
Gila is available for team building art activities, art and wellness , therapeutic art exercises and general art teaching. Her specialties are drawing, painting,( including mindful drawing/painting) textile art and sewing
---
Heather Cunningham
A member of the Clay Shed for about 10 years. I started potting 40 years ago and have enjoyed a number of "phases". Periods of making balls, chess sets, domestic ware, groggy clay, wheel making, primitive firing, wood firing and using a range of finishes and glazes. There are just so many options with clay!
My attraction to working in clay is about curves and I've always enjoyed making pieces with curves – there are very few straight lines in nature and working with clay enables me to, in various ways, connect with the curves of nature. . . the curves of life maybe. Like nature, clay is very forgiving – my recycle bucket is testament to that!
Hand building and finishing can take me to a still place inside. That lovely space of alert quietness.
My current 'happy place' is making cows. Having had a stud of small cows (Dexters) for 20 years, I've come to love these gorgeous gentle creatures. So amongst a real mix of work, look out for the girls from Hills Road.
---
Byron Delves
Byron Delves is a jeweller with over 30 years' experience in the trade. Always creating new designs, he works mainly in silver and gold. He is a self-taught potter and his early inspiration came from pottering around in the clay shed with his clay artist father.
Byron enjoys sharing his pottery knowledge with others and loves to help draw out the creative talents of his students.
You will often find Byron in the Clay Shed creating pieces that are both functional, handmade and reflecting the environment around him.
---
Susanne Prinz
Originally from Germany, Clay Shed manager Susanne Prinz motto is learning by doing.
She is a self-taught clay artist and sculptor, and her whimsical creations often relate to nature and her childhood experiences in her home country.
Susanne gets satisfaction from helping people achieve their own personal artistic goals in the Clay Shed.
You will often find her in the Clay Shed helping young and old have fun with clay at the monthly Raglan Creative Markets.
She has been the driving force behind fundraising activities for the new creative space that will begin being built in 2018.
The Clay Shed also caters for group and corporate bookings and Susanne tailors fun, creative workshops to suit your requirements.
---