Movie- INTERLUDE IN PRAGUE (4.30pm)
Movie- INTERLUDE IN PRAGUE (4.30pm)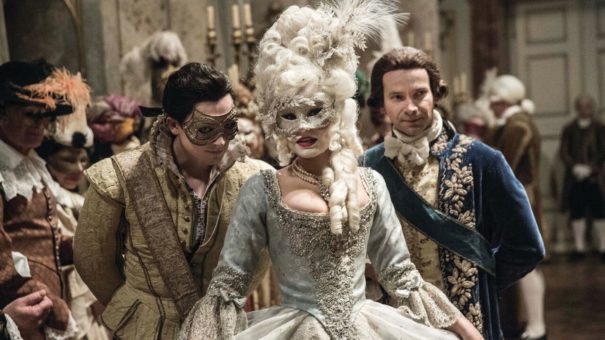 ★★★★

 

THE UPCOMING UK "Interlude in Prague blends the sumptuous passion of his music with a visually stunning aesthetic that revitalises Mozart in the modern mind."


  


MOZART - MUSIC - LUST - MURDER.

 
Dunkirk's Aneurin Barnard stars in this period thriller from the producer of Gosford Park that chronicles Wolfgang Mozart's Prague years.
1787, Prague. Mozart escapes the frustrating Vienna to spend a few weeks in Prague. However, his presence soon unleashes a series of dramatic and tragic events set off by a forbidden affair with a young soprano Zuzanna (Morfydd Clark, Pride and Prejudice and Zombies). Overwhelmed by the lust, violence and intrigue that surrounds him, Mozart finds inspiration to create the operatic masterpiece Don Giovanni.
Directed by John Stephenson ('The Christmas Candle', 'Five Children and It')
Starring Aneurin Barnard, James Purefoy, Samantha Barks, Morfydd Clark, Adrian Edmondson, Anna Rust, Dervla Kirwan, Ruby Bentall
Written by Brian Ashby, Helen Clare Cromarty, John Stephenson
Drama, True Story & Biography, Romance | 103 mins M Violence & sexual violence | Czech Republic, UK
---
Our theatre is cosy and inviting. 2K Digital Projection with Dolby 5.1 Audio.
Our volunteers open the theatre doors and box office 30 minutes before the start time of each session.
Door sales are available from 30 minutes before the start of each session. If you want to check if seats are available phone 825 0023, from 30 minutes before the start of each session.
There are no allocated seats. Arrive early to get the seat that's right for you from our eclectic collection of couches, reception and other chairs.
There is a cafe with juice, Bundaberg drinks, popcorn plus yummy food on sale. Most sessions are licensed with wine and beer available.
Pay at the door by cash or EFTPOS.
The office is usually open Mondays to Fridays from 10am to 2pm for pre-purchase of tickets.
Due to our small capacity we recommend that reserves are made using the web reservation system as shown below. Or you can phone 825 0023 and leave a message or email [email protected]
We accept online reserve requests up to 1 pm on the day of screening– provided the session isn't already full.
Online reserves are available for payment from 30 minutes before the start of a session to 15 minutes before the start.
From 15 minutes before the start they will be resold if the session is full.
Online ticket sales for this event are closed.