Oct 31, Nov 14,15: Movie – ROMANTIC ROAD
One English couple. One battered Rolls Royce car. 5000 miles through the heart of India.
BEST OF FESTIVAL – Victoria Film Festival
RAGLAN MOVIES at the OLD SCHOOL, 5 Stewart Street, Raglan
ROMANTIC ROAD, Coarse language & drug references 81 mins Bangladesh, Canada, India, Nepal
Saturday 31st October 5.45pm
Saturday 14th November 8.00pm
Sunday 15th November 4.30pm
Book online: raglanmovies.nz, call into the Old School office Mon-Fri 10am to 2pm. (Office closed public holidays)
Door sales from 30 mins before session times.
Licensed bar & homemade snacks on sale at all screenings.
Adults $15, Concession $12, RCAC Members $12, Children $8.
The reduced concession rate is for $12 concession (student, seniors or CS cards).
Meet Rupert and Jan Grey, a free-spirited and eccentric upper-class English couple in their sixties, married for 35 years and on the verge of retirement.
As soon as 'Romantic Road' starts, you come to the understanding that Rupert Grey is a walking paradox – a London lawyer and walking oddity of fun self-expression. This documentary is the story of Rupert embracing old age. Content with his life of obscurity and adventure, he sets about conquering retirement with some serious risk-taking. After much research and a lifelong dream, Rupert travels the entire outskirts of India in his father's old Rolls Royce, a gesture quite poignant in its commemoration of both his father and the service of the car to the family.

Switch Lily Meek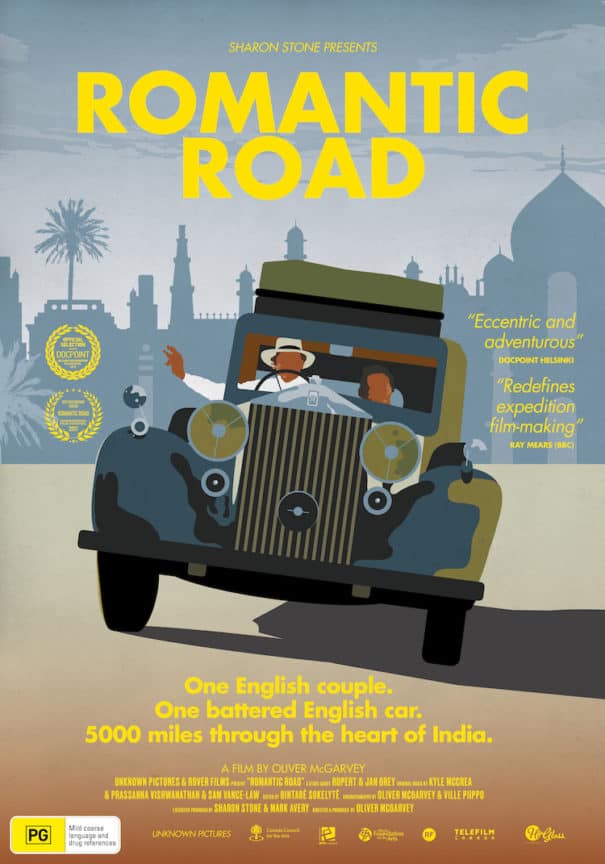 At a time when most couples are preparing for a simple life, this intrepid couple ignore everyone's advice and embark on a remarkable journey – to drive Rupert's father's 1936 Rolls Royce across India on their way to a photography festival in Dhaka, Bangladesh. Over six months and some 5000 miles, they fall into company with tea-wallahs and maharajahs, dodge tribal conflicts, negotiate with border officials and make constant mechanical repairs.
Truly unique among adventure films, Oliver McGarvey's stunning documentary is at once a rare glimpse into an inspired expedition, a study of a love story 35 years in the making and a reminder to never stop embracing the possibilities of life.
Director: Oliver McGarvey (feature debut)
Cast: Rupert Grey, Jan GreyMark Sealy, Ankur Vikal
PG, Coarse language & drug references 81 mins Bangladesh, Canada, India, Nepal, UK 2017