Aug 20 to Oct 26: Getting to the Raglan Old School Arts Centre while Wainui Road is closed
How to get to the Raglan Old School Arts Centre from the Raglan township/ Raglan East while Wainui Road is closed (20th August till 26th Oct.)
WALKING, RUNNING OR CYCLING
Use the footpath on the Museum side of Wainui Rd to get past the work. This footpath will remain open during the work.
From the Museum/ iSITE cross Wainui Road and walk up the foot path on the Southern side of Stewart Street (Church, Kindy, Old School side.)
Traffic Controllers will be onsite to assist guiding pedestrians (footpath users) during the daytime works.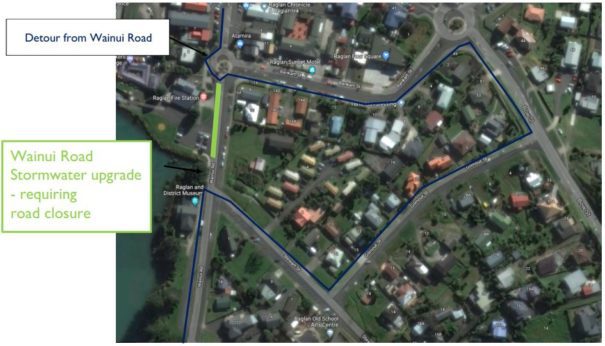 VEHICLES
From Bow Street drive down Gilmour St to Stewart Street or from Main Road, go along Norrie Avenue and then down Stewart Street.
There is no change for people coming from Raglan West – Turn right from Wainui Road into Stewart Street.